No sleeping in web3 land. From North Korea funding its growing missile program via cyber attacks to steal crypto, to the Feds seizing $3.6B in stolen crypto from a NYC couple, it has been a wild week for the crypto folk.
North Korea Cyberattacks on Crypto Exchanges Fuel Missile Program
Pixabay, Tiburi
According to the United Nations, one of the key revenue sources continuing to fuel the development of North Korea's nuclear and ballistic missiles program has been state coordinated cyber attacks on crypto exchanges. Friendly reminder, North Korea has been banned from conducting nuclear tests and sanctioned by the UN Security Council since 2006. Wondering how much money they were able to make off with? This snippet from Reuters might help put it into perspective:
"The monitors also cited a report last month by cybersecurity firm Chainalysis that said North Korea launched at least seven attacks on cryptocurrency platforms that extracted nearly $400 million worth of digital assets last year.
In 2019, the U.N. sanctions monitors reported that North Korea had generated an estimated $2 billion for its weapons of mass destruction programs using widespread and increasingly sophisticated cyberattacks."
Florida Home to Sell as NFT in Auction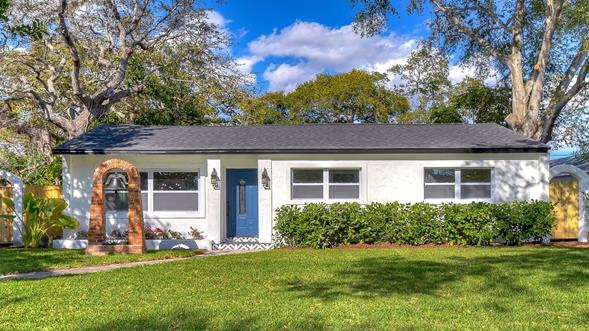 6315 11th Ave. S in Gulfport / TDK Home Tours | Courtesy of Heckler Realty Group
Yep, home sales on the blockchain and via NFT are now happening. Are you surprised? No–no, you're not. The Gulfport, Florida homeowner is working with Propy to tokenize the property and auction it as an NFT starting at $650,000. So how does one sell a home via NFT auction? According to a local real estate expert Christopher Vasilakis, effectively ownership documents are put into an LLC, and the NFT represents the LLC itself.
Top Tech Talent Leaving Silicon Valley for Crypto & Web3 Endeavors
According to a Business Insider report, Silicon Valley execs and top talent are leaving legacy tech companies in droves to chase the allure and future riches that crypto and web3 companies have to offer. "The former CMO of Meta's digital wallet project, Novi, took the same position at the blockchain-focused payments company Circle in January; the former GM of Amazon's AWS Edge Services is now CTO of Gemini, and Lyft's former CFO and Uber's ex-director of corporate development have joined OpenSea."
Swipe Right…Dating in the…Metaverse?
Tinder parent company, Match Group, sees the metaverse as the next frontier to conquer in the dating world. In the future, singles will mingle in virtual clubs with their digital avatars. Makes you think…how will you impress that certain someone in the virtual club? *Cough* *Cough* NFTs
Largest DOJ Seizure Ever ($3.6B in Crypto), NYC Couple Arrested
Giphy
Damn…the DOJ just smashed their record books with this seizure. A New York City couple was just arrested for conspiring to launder $3.6B of bitcoin which was stolen during the infamous Bitfinex hack back in 2016. This is now the largest financial seizure…ever.
34-year-old Ilya Lichtenstein and his wife, Heather Morgan, 31, conspired to launder a whopping 119,754 bitcoins over the last 5 years by using fake identities, setting up fake accounts, and running computer programs to automate transactions. These are some sophisticated money launderers.
So what are they getting charged with?: Conspiracy to commit money laundering, max sentence of 20 years in prison, and conspiracy to defraud the United States government, max sentence of five years. We'll keep our eyes peeled to see how this one ends up.
Podcast Spotlight: "Will Every Piece of Media Enter the Internet as an NFT? Variant Fund Says Yes" – Unchained, by Laura Shin
Tweet of the Day:
Tweet, tweet. We'd love it if you followed us on Twitter.
Like Web3 Money? Love it? Feel free to forward this email to a friend and help them learn more about all things web3. Did someone forward this to you? Subscribe to Web3 Money for free with the magical link below
Subscribe to Web3 Money for Free
All the best,
Web3 Money Team